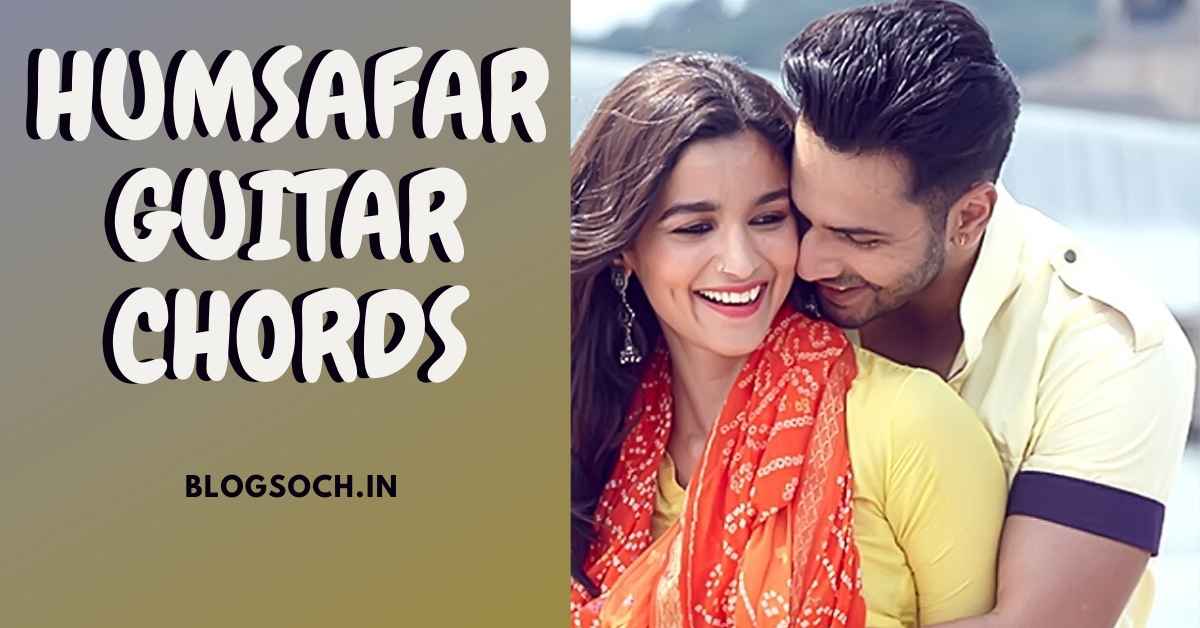 Let's Play Humsafar Guitar Chords
Hey guys, are you searching for the best Humsafar Guitar Chords. Then you are at the right button. Here, we have provided guitar chords in quick and easy clicks. However, we are here not only just to provide the music notes, but our Target is to give you the best and to make you well confident through provided Guitar chords.
Humsafar is one of the most trended songs from the movie Badrinath ki Dulhaniya which had been sung by the singer Akhil Sachdeva and Mansheel Gujral. This song is one of the most popular in that movie. However, by hearing the tune, the guitar lovers would love it to paly and also wanted to learn it quickly. So, I have provided the notes below in an easy way that will make it very clear to Learn it quickly.
Movie :  Badrinath ki dulhaniya
Song  :  Humsafar 
Singer :   Akhil Sachdeva and Mansheel Gujral
Let's start Humsafar Guitar Chords and enjoy playing the song…
INTRO G
(G)Sun zaalima mere
(G)Saanu koi dar na
(G)Ki samjhega zamaana
Tu vi si kaml(C)i
(C)Main vi sa kamla(G)
I(G)shqe da r(og sayan(G)a
Is(G)hqe da ro(C)g sayanGa..
Sun mere hCumsafar
Kya tujhe i(G)tni si bhi kh(C)abar
INSTRUMENTAL G
(G)Sun mere hum(C)safar
Kya tujhe itn(G)i si bhi kha(C)bar
Ki teri sa(G)ansein chalti ji(C)dhar
Rahunga b(D)as wahin umrr b(G)har
Rahunga ba(D)s wahin umrr b(G)har, haaye
(Em)Jitni haseen ye mu(Bm)lakatein hain
(C)Unse bhi pyari teri ba(G)atein hain
(Em)Baaton mein teri jo kho ja(Bm)ate hain
Aaun na Amhosh mein main kab(D)hi
Baahon mein hAmai teri zindag(G)i, haa(D)ye
(Humsafar Guitar Chords)
CHORUS
(G)Sun mere hums(C)afar
Kya tujhe it(G)ni si bhi kha(C)bar
INSTRUMENTAL G C G C
(G)Zaalima tere ishq '(C)ch
(G)Ho gayi aa main kaml(C)i
(G)Haaye.C.
(Humsafar Guitar Chords)
VERSE
GMain toh khada kis soch mein pada tha
CKaise jee raha tha main deeDwana
GChhup se aake tune
CDil mein sama ke tune
BmChhed diya ye kCaisa faDsana
EmMuskurana bhi tujhi se sBmeekha hai
CDil lagane ka tu hi tGareeka hai
EmAitbaar bhi tujhi se hoBmta hai
Aaun na hAmosh mein main kDabhi
Baahon mein Amhai teri zindGagi, haayDe
(G)Hai nahi tha pa(C)ta
Ke tujhe (G)maan lunga Kh(C)uda
Ki teri ga(G)liyon mein iss (C)qadar
(D)Aaunga har peh(G)ar
(G)Sun mere hums(C)afar
Kya tujhe it(G)ni si bhi k(C)habar
Ki teri saan(G)sein chalti ji(C)dhar
Rahunga b(D)as wahin umrr bhGar
Rahunga ba(Bm)s wahin umr(C)r bhar(G), haaye
Z(G)aalima tere ishq 'ch..
HUMSAFAR GUITAR CHORDS
RELATED SONGS
MORE ABOUT THE SONG
Humsafar is the most beautiful song from the movie Badrinath Ki Dulhaniya. It is an Indian Hindi language Bollywood movie, full of romantic comedy. The movie directed and written by Shashank Khaitan. Also,  co-produced by Karan Johar. The Cinematography was done by Neha Parti Matiyani and edited by Manan Sagar.
The soundtrack album was given by Amaal Malik, Tanishk Bagchi, and Akhil Sachdeva, with the lyrics written by Kumaar, Shabbir Ahmed, Akhil Sachdeva, Badshah, and Indeevar. The music was released on 14 February 2017 by T-series.
The film stars who performed their great roles in the movie are stars Varun Dhawan and Alia Bhatt. The movie is about the love story of a boy from a rich class family but with no importance of women power and a girl who believes in her own dream, how they get married by getting the importance to the women.
The principal photography for the movie was started on e May 2016 and was mostly picturized in the Ghatotkach Circle, Kishore Sagar Lake and Seven Wonders Park in Kota, Rajasthan.
CONCLUSION
Thank you for visiting the Blogsoch page of Humsafar Guitar Chords. I hope you must enjoy it. Keep practicing and playing with the Provided Guitar Chords.