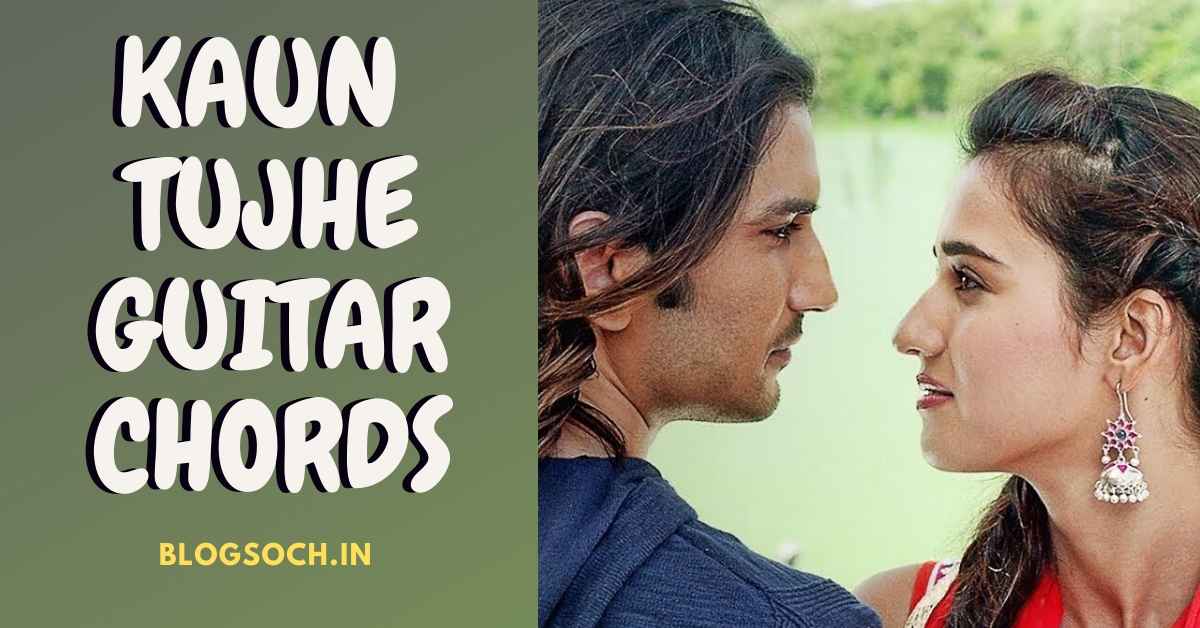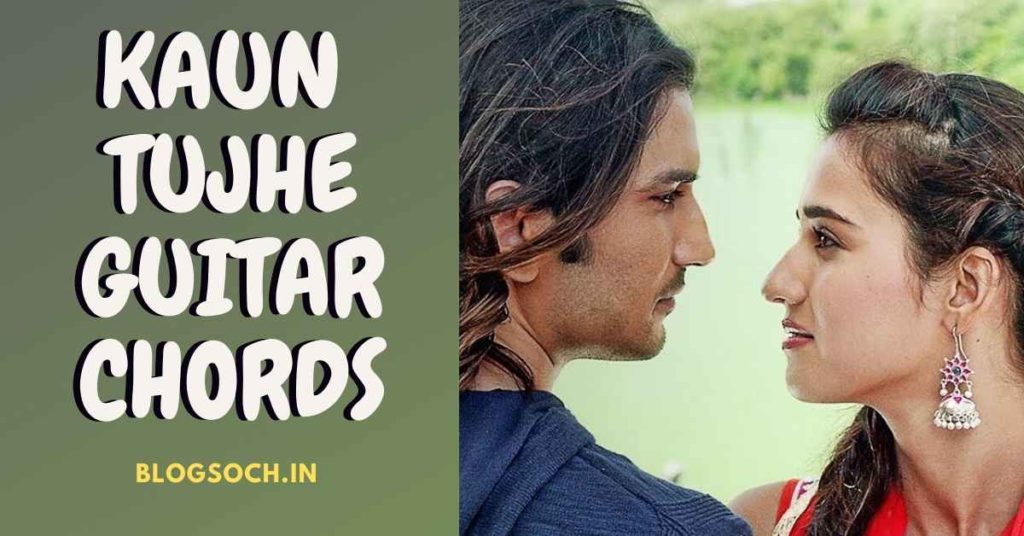 Let's play Kaun Tujhe Guitar Chords
Hey guys, are you searching for best Kaun Tujhe Guitar Chords. Then you are at the right button. Here, we have provided  guitar chords in just  quick and easy clicks. However, we are here not only just to provide the music notes, but our Target is to give you the best and to make you well confident through provided Guitar chords .
Kaun Tujhe is one of the most trended songs from the movie MS Dhoni which had been sung by the singer Palak Muchhal. This song is one of the most popular in that movie. However, by hearing the tune, the guitar lovers would love it to paly and also wanted to learn it quickly. So, I have provided the notes below in an easy way that will make it very clear to Learn it quickly.
Movie:  MS Dhoni the untold story
Song:  Kaun Tujhe 
Singer :   Palak much
Let's start  Kaun Tujhe Guitar Chords and enjoy playing the song…
Intro
Am G Em F
Am G Em F
ha ha…
Am           G
Tu aata hai seene mein
Em               F      
Jab jab saansein bharti hoon
Am           G
Tere dil ki galiyon se
Em           F
Main har roz guzarti hoon
Am             G         
Hawaa ke jaise chalta hai tu
Em             F
Main ret jaisi udti hoon
Am             G
Kaun tujhe yun pyar karega
Em         F     
Jaise main karti hoon
Am     G              
Ho ho….
Em         F   
ha haa…
Am            F
Meri nazar ka safar
C              G
Tujhpe hi aake ruke
Am                F
Kehne ko baaqi hai kya
C                G
Kehna tha jo keh chuke
 Am              
Meri nigaahein hain
   F                    C             G      
Teri nigahon ki tujhe khabar kya be-khabar
Am              G
Main tujhse hi chhup chhup kar
Em            F
Teri aankhen padhta hoon
Am             G
Kaun tujhe yun pyaar karega
Em          F
Jaise main karta hoon
Am     G              
Ho ho….ha.. aaa
Em         F   
Ha ha ha
Am            F
Tu jo mujhe aa mila
C              G
Sapne hue sirphire
Am               F
Hathon mein aate nahi
C                G
Udte hain lamhe mere
    Am        
Meri hansi tujhse
   F             
Meri khushi tujhse
     C             G
Tujhe khabar kya be-qadar
Am             G
Jis din tujhko na dekhun
Em           F
Pagal pagal phirti hoon
Am             G
Kaun tujhe yun pyaar karega
Em          F
Jaise main karti hoon
Am     G              
Ho ho….oo
Em         F   
Ha ha ha…aa
Ho ho….aa
KAUN TUJHE GUITAR CHORDS
RELATED SONGS
MORE ABOUT THE SONG
Kaun Tujhe is the most beautiful and romantic Indian Hindi song from the movie M. S Dhoni: The untold story. The song was sung by Palak Muchhal and penned by Manohu Muntashir. The song was composed by Amaal Malik. The beautiful video of the song was performed by Shushant Singh Rajput and Disha Patani. The video shows the love bond between them as they are ready of going to meet each other after a long time on the day of Valentine and at the end of the song Disha Patani had a car accident and she dies.
Finally, this song released on 28 August 2016. Palak Muchhal was awarded as the best female singer at the star screen awards 2016. M.S. Dhoni: The untold story is the Indian Hindi language Bollywood movie, full of biographical sports. The movie was written and directed by Neeraj Pandey. The amazing music was given by Sanjoy Chowdhury and Amaal Malik. The cinematography was done by Santosh Thundiyil and edited by Shree Narayan Singh.
The film stars who performed their great roles were Sushant Singh Rajput as Dhoni, along with Disha Patani, Kiara Advani, and Anupam Kher. The idea of making a biopic on Dhoni's story was put forward by his manager, Arun Pandey, after encountering an incident at an airport after the 2011 Cricket World Cup Final. And hence the movie finally made and released on 30 September 2016.
CONCLUSION
Thank you for visiting the blogsoch page of the Kaun Tujhe Guitar Chords. I hope you must enjoy it. Keep practicing and playing with the Provided Guitar Chords.