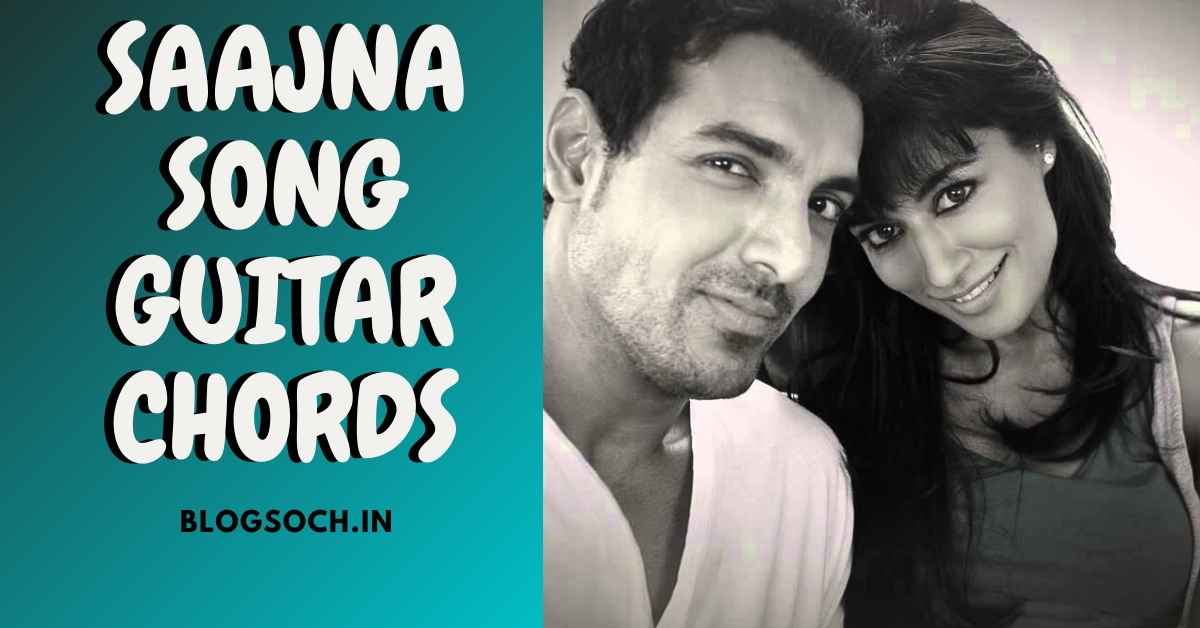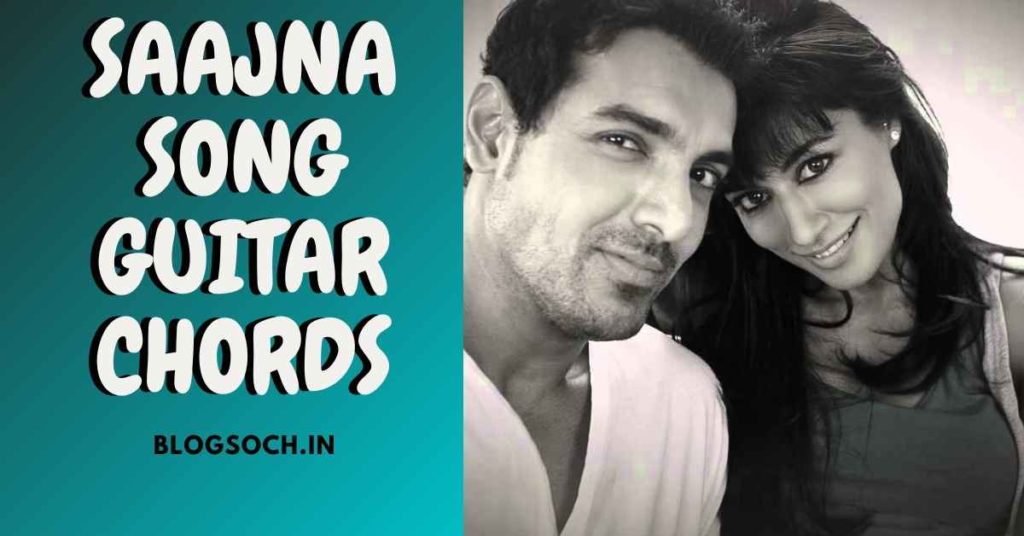 Let's Play Saajna Guitar Chords
Welcome to the Blogsoch page of Saajna Guitar Chords. Saajna is the most beautiful song from the movie I Me Aur Main. It is an Indian Hindi language Bollywood movie, full of romantic comedy. The movie was directed by Kapil Sharma, Produced by Goldie Behi and distributed by Reliance entertainment. The soundtrack album was composed by Sachin-Jigar, and it contains all over 7 tracks in the movie. This album consists of many popular songs, one of it is Saajna, sung by Falak Shabir and Lyrics also was penned by Falak Shabir
Movie:  I me aur main
Song:  Saajna 
Singer:   Falak Shabir
Let's start Saajna Guitar Chords and enjoy playing the song…
Ek tujh(C#m) ko hi [B]bas dekh kar
Bhooli mujh(C#m) ko hi [B]meri nazar
Tujhko (C#m)shayad nahi [B]hai khabar
Tujhko (A)jeete hain hum kis (B)kadar……
Jude jo tere (C#m)khawab se(B)
Toh toote hum (A)neend se(B)
Yeh kaisa tera (C#m)ishq hai (B) Saaj(A)na..(B)
Tu haathon mein toh (C#m)hai mere(B)
Hai kyun nahi (A)laqeeron mein(B)
(Saajna Guitar Chords)
Yeh kaisa tera (C#m)ishq hai (B)Saaj(A)na..(B)
Tere bi(C#m)na kabhi,  raatein na ho meri
Tere (B)kareeb ho, (A)mere yeh (B)din sabhi (x2)
Jude jo tere (C#m)khawab se(B)
Toh toote hum (A)neend se(B)
Yeh kaisa tera (C#m)ishq hai (B) Saaj(A)na..(B)
Tu haathon mein toh (C#m)hai mere(B)
(Saajna Guitar Chords)
Hai kyun nahi (A)laqeeron mein(B)
Yeh kaisa tera (C#m)ishq hai (B)Saaj(A)na..(B)
Tu saath (C#m)hai agar
Tanha (C#m)kyu hai safar
Itna (B)bata mujhe
(A)Kyu hai mujhse (B)bekhabar (x2)
Jude jo tere (C#m)khawab se(B)
Toh toote hum (A)neend se(B)
Yeh kaisa tera (C#m)ishq hai (B) Saaj(A)na..(B)
Tu haathon mein toh (C#m)hai mere(B)
Hai kyun nahi (A)laqeeron mein(B)
Yeh kaisa tera (C#m)ishq hai (B)Saaj(A)na..(B)
SAAJNA GUITAR CHORDS
RELATED SONGS
MORE ABOUT THE SONG
Saajna is the most beautiful song from the movie I Me Aur Main. It is an Indian Hindi language Bollywood movie, full of romantic comedy. The movie directed by Kapil Sharma, produced by Goldie Behi and distributed by Reliance entertainment. The movie was finally released on 1 March 2013.
The soundtrack album was composed by Sachin-Jigar, and it contains all over 7 tracks in the movie. This album consists of many popular songs, one of it is Saajna, sung by Falak Shabir, and Lyrics also was penned by Falak Shabir.
The film stars who performed their great roles in the movie, John Abraham, Prachi Desai and Chitrangada Singh in lead roles. 
The story of the movie is about the irresponsible boy in a relationship, named Ishaan (John Abraham), living with his girlfriend Anushka (Chitrangada Singh) and takes her for granted, so one day she kicks him out of the house. Later his new neighbor Gauri came into his life and then he falls in love with her. Then after Ishaan is thrown out from his job, Gauri encourages him to start his own music company.
Meanwhile, Anushka is pregnant with his child, but she did not open up as he is irresponsible. Further, Gauri gets a scholarship to Paris, and they both decided to leave after his big launch. But, then he came to know that Anushka stars having contractions, realizing his responsibilities, he took her to the hospital where they have a baby girl. Meanwhile, Gauri left for Paris.
CONCLUSION
Thank you for visiting the Blogsoch page of Saajna Guitar Chords. Hope you must enjoy it. Keep practicing and playing with the Provided Guitar Chords.