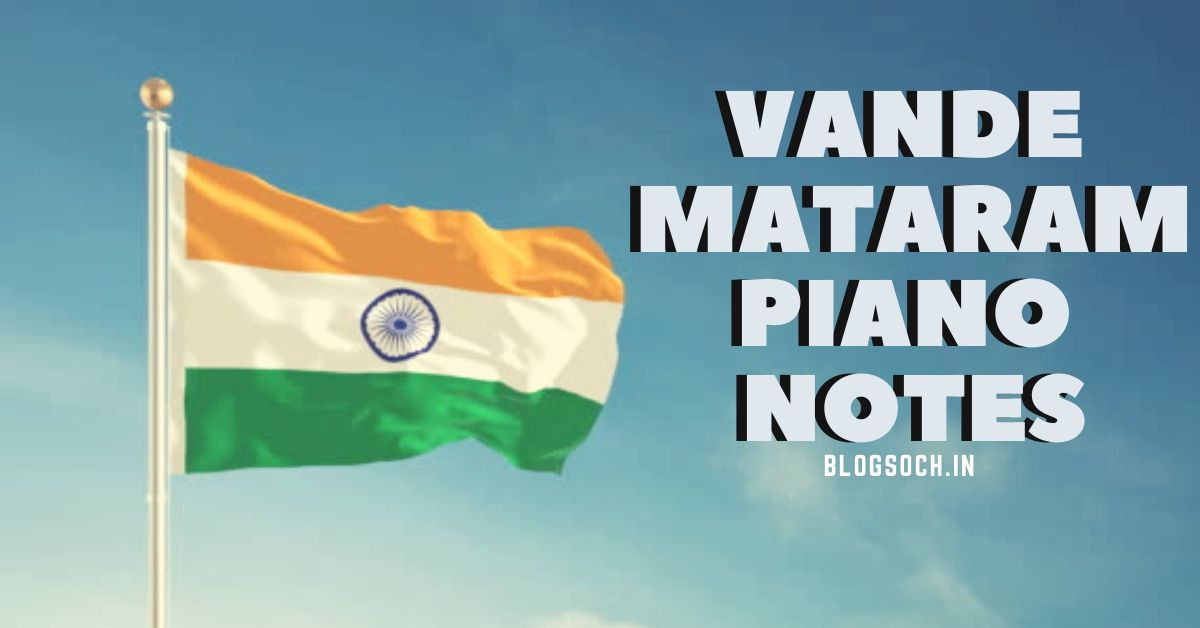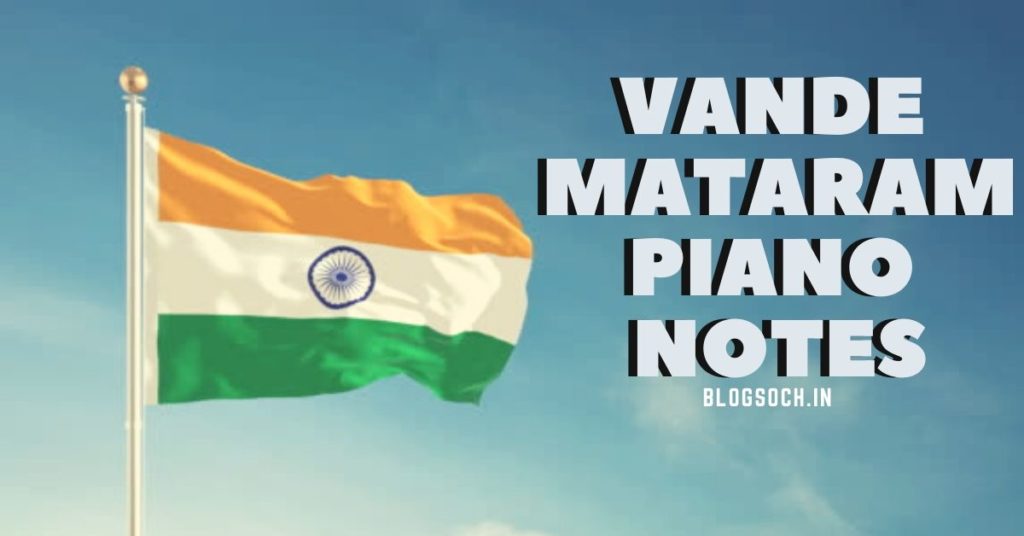 Lets Play Vande Mataram Piano Notes
Vande Mataram Piano notes.Bankimchandra Chatterjee had written the poem Vande mataram which has become the patriotic song of India. This song was first sung by the Rabindranath Tagore in 1896. The first 2 verses of this song were adopted as the National Song of India in October 1937.
So, here we present to you the best piano notes for the national song, Vande Mataram.
Originally published: 1882
Author: Bankimchandra Chatterjee
Lyrics: Bankim Chandra Chatterjee, Anandamath (1882)
Music: Hemanta Mukherjee, Jadunath Bhattacharya
Lets start playing Vande Mataram Piano Notation
Intro
Vande Mataram! Vande Mataram!
CD FGFG ! FG BC`BC`
Sujalam, suphalam, malayaja shitalam,
C`D` A# AG , GAF ED , DGFE , DEC,
Shasyashyamalam, Mataram! Vande Mataram!
CD FGFG , GA#AG! FG BC`BC`
Shubhrajyotsna pulakitayaminim,
FGBBB ,BBC`B B BC`
Phullakusumita drumadala shobhinim,
BB BC`BC` , C`D`C`A#, AA#A G,
Suhasinim sumadhura bhashinim,
DFED DA#AA# AG AG
Sukhadam varadam, Mataram!
FGB BBB , BC`BC`!
Vande Mataram! Vande Mataram!
FG BC`BC` FG BC`BC`
Related Post
ABOUT THE SONG
Vande Mataram is the most beautiful Sanskrit poem written by Bankim Chandra Chatterjee in the year 1870. This poem is included in one of his best novels Anandamath. On 24 January 1950, the Constituent Assembly of India has adopted "Vande Mataram" as a national song.
MORE ABOUT THE SONG
Bankimchandra Chattopadhyay or Bankimchandra Chatterjee. He was a great Indian novelist, poet, and journalist. He was also a big composer of the poem Vande Mataram which had been written in the Sanskrit language. The great contribution of Chatterjee is he wrote all over 13 novels and many serious, seriocomic, satirical, scientific, and critical treatises in Bengali.
CONCLUSION
Glad, that you visit on our page Vande Mataram Piano notes.  Fill self and surrounding with Love towards Nation and enjoy playing these provided piano notes. Keep practicing and playing with your piano.
History ( Vande Mataram Piano Notation)
BJP President Amit Shah on Wednesday accused the Congress of appeasing Muslims by retaining only two stanzas of the song during the freedom movement.
Bharatiya Janata Party President Amit Shah on Wednesday alleged that the Congress' policy of appeasing Muslims had resulted in Partition.
Shah, who spoke at an event in Kolkata commemorating 19th-century Bengali writer Bankim Chandra Chatterjee, referred to the party's decision during the freedom movement to retain only two stanzas of India's national song Vande Mataram, written by Chatterjee, following complaints by many Muslims. The event was organized by the Syama Prasad Mookerjee Research Foundation, a Delhi-based think tank associated with the BJP.