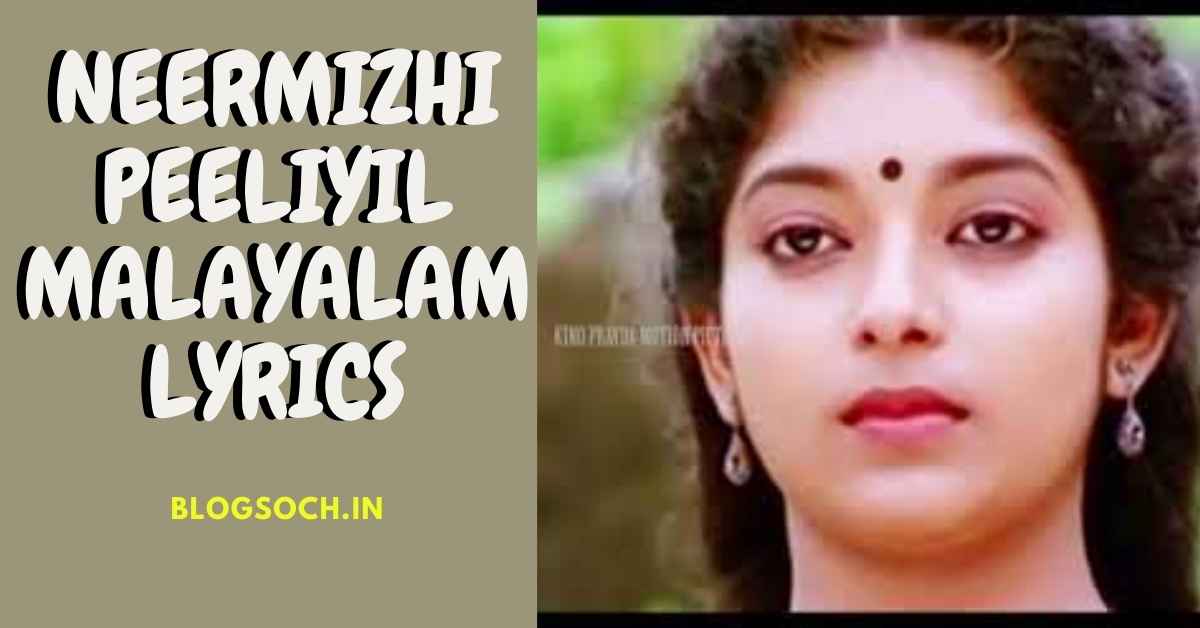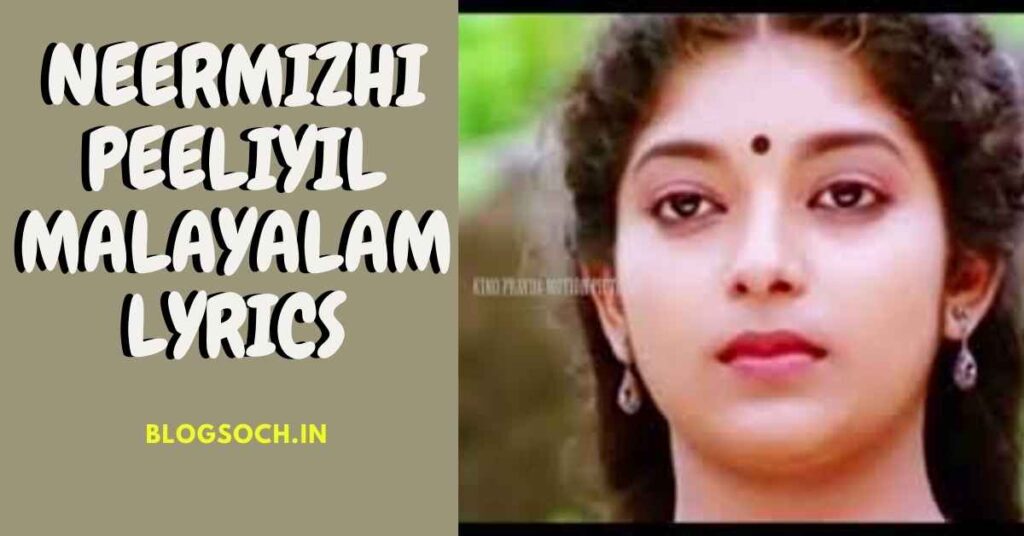 Neermizhi Peeliyil Malayalam Lyrics
Welcome to the blogsoch page of Neermizhi Peeliyil Malayalam Lyrics. Neermizhi Peeliyil is the beautiful song sung by popular singer K. J. Yesudas. The lyrics for the song Penned by O. N. V. Kurup and the music composed by Mohan Sithara.
This song is from the 1990 malayalam movie, Vachanam, directed by Lenin Rajendra and starring Suresh Gopi,  Jayaram and Sithara.
Song: Neermizhi Peeliyil
Film: Vachanam
Director: Lenin Rajendran
Year: 1990
Music:  Mohan Sithara
Lyrics:  O. N. V. Kurup
Singer: K. J. Yesudas
Starring: Suresh Gopi, Jayaram,Sithara
Neermizhi Peeliyil Lyrics
നീര്‍മിഴി പീലിയില്‍ നീര്‍മണി തുളുമ്പി..നീയെന്‍ അരികില്‍ നിന്നു..
കണ്ണുനീര്‍ തുടയ്ക്കാതെ..ഒന്നും പറയാതെ..
നിന്നു ഞാനുമൊരന്ന്യനെ പോല്‍..വെറും അന്ന്യനെ പോല്‍.. 
നീര്‍മിഴി പീലിയില്‍ നീര്‍മണി തുളുമ്പി..നീയെന്‍ അരികില്‍ നിന്നു..
കണ്ണുനീര്‍ തുടയ്ക്കാതെ..ഒന്നും പറയാതെ..
നിന്നു ഞാനുമൊരന്യനെ പോല്‍..വെറും അന്യനെ പോല്‍..
ഉള്ളിലെ സ്നേഹ പ്രവാഹത്തില്‍ നിന്നൊരു തുള്ളിയും വാക്കുകള്‍ പകര്‍ന്നീല്ലാ.. 
ഉള്ളിലെ സ്നേഹ പ്രവാഹത്തില്‍ നിന്നൊരു തുള്ളിയും വാക്കുകള്‍ പകര്‍ന്നീല്ലാ..
Neermizhi Peeliyil Malayalam Lyrics
മാനസഭാവങ്ങള്‍ മൌനത്തില്‍ ഒളിപ്പിച്ചു മാനിനീ നാം ഇരുന്നു..
നീര്‍മിഴി പീലിയില്‍ നീര്‍മണി തുളുമ്പി..നീയെന്‍ അരികില്‍ നിന്നു..
കണ്ണുനീര്‍ തുടയ്ക്കാതെ..ഒന്നും പറയാതെ.. 
നിന്നു ഞാനുമൊരന്യനെ പോല്‍..വെറും അന്യനെ പോല്‍..
അഞ്ജാതനാം സഹയാത്രികന്‍ ഞാന്‍ നിന്റെ ഉള്‍പ്പൂവിന്‍ തുടിപ്പുകള്‍ അറിയുന്നു..
അഞ്ജാതനാം സഹയാത്രികന്‍ ഞാന്‍ നിന്റെ ഉള്‍പ്പൂവിന്‍ തുടിപ്പുകള്‍ അറിയുന്നു..
നാമറിയാതെ നാം കൈമാറിയിലെത്ര മോഹങ്ങള്‍..നോമ്പരങ്ങള്‍.. 
നീര്‍മിഴി പീലിയില്‍ നീര്‍മണി തുളുമ്പി..നീയെന്‍ അരികില്‍ നിന്നു..
കണ്ണുനീര്‍ തുടയ്ക്കാതെ..ഒന്നും പറയാതെ..
നിന്നു ഞാനുമൊരന്യനെ പോല്‍..വെറും അന്യനെ പോല്‍..
RELATED SONGS
CONCLUSION
Neermizhi Peeliyil is a beautiful song from the movie, Vanchanam. It is a Malayalam language movie. The movie directed by Lenin Rajendran and cinematography handled by Madhu Ambat. The soundtrack album contains only one song, composed by, Mohan Sithara with the lyrics penned by O.N.V.Kurup. The song it includes Neermizhi Peeliyil, which was beautifully sung by K.S.Yesudas.
The film stars who roled in the movie, Suresh Gopi, Jayaram Charuhasan, Sithara, Thilakan, Nedumudi Venu, Mamukkoya, Sreevidya, Shivaji Guruvayoor, Babu Namboothiri, T. P. Madhavan.
STORY
The story of the movie opens up with the Ravi is attacked by the group of people on a rainy night, then his friend Gopan finds him unconscious on the road and calls the Police for help and after sometime when the police arrive for help with Police they find Ravi missing.
The story then continues with the past,  when they both meet at the Shanthipuram monastery for research. Vishnuji, the spiritual head of the monastery is running the monastery with aid from foreigners. 
Later Ravi and Gopan fall in love with Vishnuji secretary Maya. After then, Aryadevi (Sreevidya), another spiritual leader visits Shanthipuram and it is revealed that she is a surrogate mother to Ravi. Further, the journey gets disbursed.
Now, at the present, the story continues finding the lost Ravi and finally discover that Gopan plans and murders Vishnuji, but creates evidence that Ravi murdered Vishnuji and then continues to find the missing Ravi.
Thank you for visiting the blogsoch page of neermizhi peeliyil malayalam lyrics. Hope you enjoyed it.